The Insurance business is the largest part of the Saga Group. The Insurance Broking business provides tailored insurance products and services, principally motor, home, private medical (PMI) and travel insurance. Its role is to price the policies and source the lowest cost of risk, whether through the panel of home or motor underwriters or through solus arrangements for private medical and travel insurance. Our in-house insurer, Acromas Insurance Company Limited (AICL), sits on the motor and home panels and competes for that business with other panel members on equal terms. If underwritten by a third party, the product is presented as a Saga product and we will always manage the customer relationship.
Motor insurance
Saga is a trusted provider of motor insurance solutions to the over 50s market and has a number of competitive advantages which include:
a direct distribution strategy supporting a low cost of acquisition;
a differentiated retailer with access to our panel of underwriters;
the participation on our panel of our own experienced in-house underwriter, AICL, with a clear focus and data-driven insight into a relatively low risk section of the market; and
an efficient and effective claims management function.
Home insurance
We are a leading provider of home insurance for people over 50. We operate a panel of partner companies that provide the underwriting for our products. This provides us with access to a broad range of underwriters with different areas of expertise.
Other insurance
Our other insurance activities are driven largely by PMI and travel insurance. We focus on building products based on customer insight and ensuring exceptional customer experience, sourcing the best possible third-party product providers.
Our customer site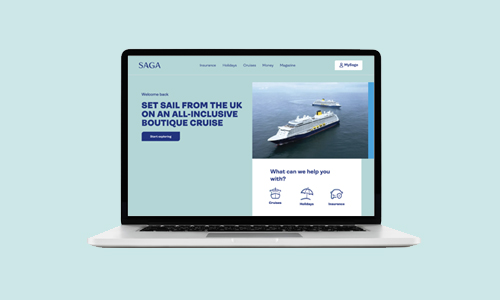 www.saga.co.uk