Market overview
Saga is the UK's leading provider of insurance, travel, personal finance and healthcare products and services tailored to the needs of the over 50s.
The over 50s are the fastest growing demographic in the UK. In 2013 there were 22.8m over 50s1, a number that is forecast to grow by 27.6% to approximately 29.1m by 20331, meaning they will represent 40% of the UK's population1. The 65-75 and 75+ segments are predicted to increase at an even greater rate over the same period, by approximately 34% and 70% respectively1.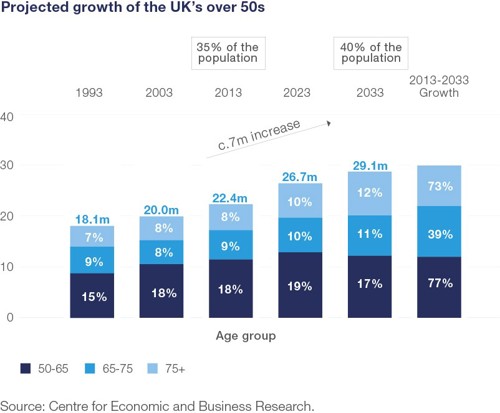 We work constantly to understand and cater for this group and provide products and services across multiple categories including insurance, travel, personal finance and publishing.
Saga operates across multiple sectors, but we have modest market shares in all of our sectors and compete with multiple providers. Whilst we have a strong position and are growing customer numbers, we do not have a monopoly when it comes to the UK's over 50s, whose substantial buying power is attractive to all market participants.
Saga however does have the advantage of only focusing on serving the needs of the over 50s, allowing us to differentiate our offering from competitors who need to provide products and services that work for customers of all ages.
This, in combination with our focus on growth across the Group, means we are in a strong position to leverage our model to continue to grow profitably our market share throughout all our operating divisions, and capitalise on the new opportunities we identify.
1 ONS population projections, CEBR (Centre for Economic and Business Research) analysis.