Environmental, Social and Governance
Saga exists to deliver exceptional experiences every day while being a driver of positive change in our markets and communities.  
During 2021, we sought ways to meet our environmental, social and governance (ESG) responsibilities more effectively and, while we continue to develop our reporting to reflect the progress we are making, we are also working on a wider reset of our ESG strategy, on which we will update in due course. We are exploring new opportunities and looking at how we can foster innovation across our business to better engage colleagues, support our customers and our communities, and ensure sustainable and responsible growth for our investors over the short, medium and long term.
Our focus has been on compliance and mandatory reporting in relation to greenhouse gas (GHG) emissions and carbon disclosures, and in preparing for Taskforce on Climate-related Financial Disclosures (TCFD). We continue to ensure that our ESG initiatives, performance, and targets support our responsibilities to all our stakeholders.
If you have any further questions in relation to ESG matters, please email ESG@saga.co.uk.
Climate change 
Saga made the decision in 2015 to respond to the Carbon Disclosure Project (CDP) climate change questionnaire and manage our climate-related impacts, risks and opportunities. In 2021, we scored 'B' which is classified as management level, demonstrating that we are taking co-ordinated action on climate issues. You can read our full CDP submission here.
In 2019, we set a 30% reduction target for our scope 1 and 2 emissions by 2030. This sets out our ambition for hitting well below the 2°c temperature rise global target by 2050. For our latest emissions reporting, please refer to pages 24 and 25 of our 2021 Annual Report and Accounts. 
Our reported GHG emissions and energy consumption are verified annually by Carbon Intelligence to the ISO 14064-3 standard, and we have adopted a materiality threshold of 5% for GHG reporting purposes. You can read the full report here and a breakdown of GHG emissions by type and verification can also be found in our CDP submission. 
We support the research programme undertaken by whale and dolphin conservation charity, ORCA Foundation, by making cabins available for its survey teams to sail onboard our ships on a regular basis. In a typical year, a team of four volunteers would sail on 10 cruises. The team raise awareness of their research by encouraging our guests to join them in monitoring wildlife and through onboard presentations.
MetroMail, our in-house mailing and printing business, located in Seaham, has been ISO 14001 accredited since 2015. The accreditation covers the provision of the direct mailing services including printing, packing, data handling and arrangement of delivery.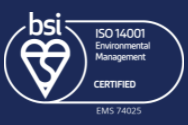 Waste management
Waste produced from our offices is separated into two main waste streams, general waste and mixed recycling, both of which are summarised in the table below. General waste is incinerated to produce energy which is fed back to the electrical grid. The remainder of our office waste is shown as total recycled waste material in a variety of forms, with zero waste going to landfill.
| Period | Total incinerated waste (tonnes) | Total recycled waste (tonnes) | Total waste generated (tonnes) |
| --- | --- | --- | --- |
| 2018 | 59.8 | 443.6 | 503.4 |
| 2019 | 57.6 | 277.9 | 335.5 |
| 2020 | 34.1 | 78.3 | 112.4 |
| 2021 | 21.2 | 79.3 | 100.5 |
Saga specialises in providing products and services specific to people aged over 50. We are not a manufacturer of goods or products and therefore do not use raw materials in the creation of our products or undertake any product lifecycle analysis.
Task Force on Climate-Related Financial Disclosures
In accordance with Listing Rule 9.8.6 (8), we are disclosing our alignment with The Task Force on Climate-Related Financial Disclosures (TCFD) recommendations. We are continually improving and aligning our internal processes and public disclosures with the TCFD and our full report, which sets out our progress against the four pillars of the TCFD framework: governance, strategy, risk management and metrics and targets, can be found here.
Culture
Delivering a step-change in people and culture was intentionally the first priority of our strategy, announced in September 2020.  We recognise that driving a positive culture and engagement of our colleagues is key to building a sustainable business.  We know that we must get it right for our colleagues, so that they are enabled to deliver the exceptional experiences that our customers expect every day. 
In 2020, we launched a set of core values representing who we are and how we work, which are brought to life every day by our colleagues. We believe that every interaction, in whatever form that takes, should reflect these values: 

At Saga, our colleagues feel welcome and can always be themselves as they are part of a supportive and empathetic team. Colleagues know how and have the tools to speak up and be heard. 
We enable colleagues to do the best work of their lives, focusing on the things that really matter. Our colleagues take ownership and make things happen, knowing they will be fairly rewarded for their contribution. 
It is this culture that allows us to attract talent and build the capabilities we need to continuously innovate and evolve, being a driver of positive change for colleagues, customers and the communities we serve. 
Wellbeing
Colleague wellbeing is a priority, particularly given the challenges of 2020 and 2021. In order to support our colleagues, we have trained a total of 56 Mental Health First Aiders, able to support their peers and have also utilised national campaigns and awareness days to help our colleagues talk about wellbeing and highlight the support and benefits we have in place. 
We have worked with our people managers across Saga to ensure they are all equipped to support our more vulnerable colleagues at times when they may be struggling. We have also partnered with a wellness app, Unmind, to provide help and tools to support colleagues with their mental wellbeing. Wellbeing will continue to be a growing area of focus for Saga, and a key workstream of our people strategy. 
Community
Our main focus is on supporting communities in Folkestone and the surrounding area, where Saga's Head Office is situated. We have a particular focus on those which enhance the area, draw visitors to the town and improve wellbeing. In 2021, we have a target that our people will, collectively, give 3,500 hours of volunteering, the equivalent of 500 colleagues using their volunteer days, a huge step-up from the 300 hours of volunteer time given in 2020. 
Saga is currently the main sponsor of Creative Folkestone which includes the Folkestone Triennial, the flagship project of Creative Folkestone and the largest exhibition of newly commissioned work presented in the UK. The Triennial attracts thousands of visitors to the town, helping to support the local economy and we are proud to support such iconic events in our community.  
Saga is also the main sponsor of the Folkestone 10k, an annual event which attracts participants from across Kent and beyond. Saga has committed to sponsoring this event for three years. The 2021 event saw 900 runners take part, raising £45k for charities.  
Our Enbrook headquarters are surrounded by 27 acres of grounds which we maintain and are open for the community and our colleagues to enjoy. An area is set aside as a hugely successful community garden which is maintained by volunteers from the local area.  Part of our headquarters, the Saga Pavilion, is a large space which we have been able to offer to the community for specific events. We look forward to being able to open this facility up further in 2022. 
During the pandemic, we took the opportunity to refurbish our offices as part of our property rationalisation. This enabled us to donate a significant amount of office furniture and equipment to the community. CollectEco supported us with this and report £183,525 of value donated to the community, helping nine good causes. By donating the furniture and equipment, 44,816kg of CO2 was avoided and 52,827kg of waste was diverted from landfill.  
Throughout 2021, our contact centre in Thanet was used as an NHS vaccination centre, one of the largest in Kent, delivering thousands of COVID-19 vaccinations to the local community. Many of our colleagues have volunteered at the centre too, helping to support the biggest vaccination rollout our country has ever seen. 
As well as promoting Saga's preferred charities, we also support our colleagues who are fundraising for other charities through our matched funding scheme. Each month, colleagues have the opportunity to tell us about their fundraising activities and apply for matched funding. 
We also administer a Saga Workplace Lottery which colleagues can play while raising funds for good causes. The proceeds are distributed quarterly to Folkestone-based charities determined by a colleague vote. 
As a company with a nationwide customer base, we also invest in community projects which have a particular synergy with our customer demographic. For example, our customers tell us they think we should support projects working to tackle loneliness. We have taken this on board and made donations to The Silver Line, Mind and The Plunkett Foundation in 2021.  
Saga is extremely proud to be a signatory of the Armed Forces Covenant, a recognition scheme that rewards the efforts of organisations which provide support to this community. At Saga, we do this in several ways:
Seeking to support the employment of veterans, young and old.
Through our Reservist Policy which provides support to colleagues who choose to be members of the Reserve Forces.
Offering flexibility in granting leave for service spouses and partners.
Making donations to Armed Forces charities. 
We have extended our long running scheme, which provides educational bursaries for the children and siblings of our Filipino crew members. During 2021 awards were made to 123 students. In December 2021, following the landing of Typhoon Rai in the Philippines, we provided financial support to those crew members with properties that had been destroyed or damaged. Further to this, we have worked to make COVID-19 vaccines and boosters available to our crew members, enabling them to return to work safely.
Labour standards
The landscape of employment is changing fast. There is a broad mix of full-time, part-time and 'gig economy' contracts in use across a number of industries today. Increasing automation and digitisation affects the demand for workers and types of employment. The disruption by the pandemic has also led to new perspectives in the world of work. In a future sustainable society, people have access to health, participatory processes, education, and justice. There are many ways labour standards and human rights are part of the day-to-day at Saga plc. You can read our Labour Standards Policy here.
At Saga, we are committed to creating a truly inclusive culture, where all colleagues can bring their full and authentic selves to work. Our ambition is that our colleagues are able to do the best work of their lives when they're with us. This is irrespective of the wonderful differences that make us all unique, including age, gender, ethnicity, sexual orientation, religion, ability and all other characteristics that make us who we are.   
Ultimately, having a diverse team with a wide range of skill-sets and cultural insights helps us to better serve our customers and communities – and we're proud to partner with champions in this space:  




We have an Equal Opportunities Policy which we are passionate about, and we are committed to ensuring that our attraction, recruitment, promotion and development practices are barrier-free, fair, objective and inclusive to all. All decisions we make relating to employment and our colleague lifecycle are free from bias and based solely upon work criteria and individual merit. With a focus on continuous learning, we actively encourage all colleagues to access our training and development tools to support their careers.   
We are also a committed member of the UK Government's Disability Confident scheme, supporting the employment and advancement of disabled people in the UK.   
We have an ambitious diversity, equity and inclusion strategy which we will deliver through:   
working with external champions in this space, ensuring that we are learning from the best and setting stretching goals;
ensuring our leaders, managers and recruitment team are upskilled on diversity, unconscious bias and their role in driving change;
hosting Inclusion Forums with our colleagues, giving colleagues the space to share and ensure that we are listening to what matters most to our teams; and
delivering our commitments to close the gender pay gap, outlined in our 2021 report. 
Saga's Equal Opportunities Policy covers bullying and harassment and provides colleagues with information on how to raise concerns, including to their managers, the People Team or through Saga's Speak Up process. Details of how to proceed with these concerns are also included in Saga's Grievance Policy where managers are supported by the People Team to investigate concerns. The organisation's Speak Up process provides all colleagues, including managers, a channel to report concerns anonymously and a dedicated team are then assigned to investigate. 
Responsible investments
Our approach to investments continues to ensure robust ESG factors are considered when making investments. Saga's subsidiary boards consider investment decisions and the plc Board considers and approves all material investments. 
Fines and penalties
Our cruise vessels have a strong safety and environmental performance record. No environmental fines or penalties have been imposed during 2021 and we are not aware of any ongoing investigations or proceedings which could result in the issue of any such penalty. 
Anti-corruption
The Group values its reputation for financial probity and integrity and recognises that it has a primary duty to protect its customers from all financial crime, including bribery and corruption. The Group takes a zero-tolerance approach to incidents involving bribery and corruption and supports the organisational policy which lays out clear guidance for the appropriate assessment of any risk of bribery and corruption across all business functions. All colleagues are trained annually to ensure their understanding of the risks and appropriate action if they encounter any activity of concern.
Risk management
Our risk management framework has been designed in conjunction with external risk expertise to bring together best practice risk management standards and draw upon a number of risk standards and professional body guidance, including the Institute of Risk Management, the Committee of Sponsoring Organisations, ISO 31000:2018 and Basel risk classification guidelines. These standards, frameworks and guidelines support specific design considerations of our risk framework, whilst ensuring the final result is fit for Saga and reflective of its risk maturity.  
Saga expects its colleagues, managers and leaders to carry out their business and perform their duties to the highest ethical standards and in compliance with all relevant laws. This is reflected in our Personal Standards and Ethics Policy. These standards of behaviour apply to Saga's dealings with all stakeholders including customers, regulators, colleagues, suppliers and investors. The Board reviews the Group Personal Standards and Ethics Policy, and compliance with it, on a regular basis and will take prompt action should it discover any behaviour that isn't aligned to this. Where appropriate, adherence to standards is assessed through the risk management framework and assurance work undertaken across the three lines of defence. Any areas of non-conformity are reported through the established governance framework to Executive Committees and the Board as appropriate. Policies are reviewed periodically to ensure that they remain effective.  
In addition to reporting labour-related incidents to the Board, the business works closely with all its regulators and in the event a non-conformity or reportable incident is identified, this would be disclosed to the relevant body. Where the business has a responsibility to submit calendar-based disclosure reporting claims or incidents of non-compliance, these are submitted in accordance with the schedule set by the regulator.
Under Saga's Modern Slavery Policy, each business area is required to risk assess all new suppliers before operating with them. It is also a policy requirement to carry out follow-up risk assessments with existing suppliers every three years to assess the potential of any residing risk. 
Due diligence is conducted on our suppliers to help determine our future relationship with that supplier. It is policy for all new agreements with suppliers to be in writing and contractually oblige the supplier to comply with the Modern Slavery Act.
It is the responsibility of each business area to attest continued compliance with Saga's Modern Slavery Policy annually. Any areas of non-compliance are reported through the governance framework to the appropriate executive committee and Board, where appropriate.   
ESG and climate change are an increasing focus for Saga, particularly in light of the growing importance and relevance to the business and the increased external priority placed by the UK Government in its Net Zero Strategy published in October 2021. ESG and climate risk already feature in the Group's principal risks and uncertainties included within our Annual Report and Accounts and are tracked by the Executive Leadership Team and Board to ensure the risks are being managed effectively. ESG and climate form part of our risk framework and we will be developing more regular reporting and monitoring against risk appetite throughout 2022 and beyond. 
Whistleblowing (Speak Up)
The Company's robust Whistleblowing and Open-Door Policy is known within Saga as the 'Speak Up' Policy. The Audit Committee are responsible for reviewing the adequacy and security of the Company's arrangements for its colleagues and contractors to raise concerns, in confidence, about possible wrongdoing in financial reporting or other matters. The Committee shall ensure that these arrangements allow proportionate and independent investigation of such matters and appropriate follow up action.
External auditors
Our current external auditors were appointed in 2016 following a competitive tender process. We are committed to the rotation of our audit partner and the next rotation is due in 2022.